Dragon Carpets and Flooring Ltd. 23 Llandeilo Road, Cross Hands, Carms, SA14 6NA
About Dragon Carpets and Flooring Ltd.


We are a family Business with a joint experience of over 35 years in the carpet trade.
We believe in giving customers value for money by excelling in customer service, offering expert advice, knowledge, and sensible pricing.
Having spent a number of years working for various companies, I have gained a lot of knowledge in all aspects of the flooring industry. Now I would like to offer that knowledge to you and ensure that you receive the Right product for the Right area and at the Right price. No pushy sales talk. No Mickey Mouse sale promotions, Yes to good knowledgeable information and Yes to genuine sale offers when they occur with no pressure, allow us to display our friendly and competitive service.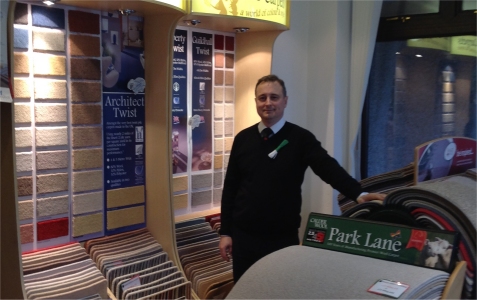 Along with quality carpets, should come quality fitting, this is why your carpet will only look as good as the carpet fitter that produces quality fitting, my Senior carpet fitter has over thirty years experience and understands customer expectations, this is why he offers 1 years service call on his work, confidently knowing that offer is unlikely to be required.
The product choice we offer is selective yet wide, Carpets that have 100% wool, (soft & naturally strong), to bleach cleanable stain-free carpets (perfect for the more robust environment). All in various styles and colours to suit all palettes, from stylish Wool Berber carpet, twist pile carpets and luxury Saxony carpets, to traditional and contempory Axminister and plain Wilton carpets, we also offer niche products such as sisal, seagrass and a selection of stripes to suit all budgets.
Value for money is vital in today's economic climate; therefore we offer carpets in a multi-width option to save money and waste. 1 mtr 2mtr 3mtr 4mtr & 5mtr what a choice! Call in and save some money with our multi width flooring, carpets to suit your budget.
We can offer you
Expert Advice
No hard sell browse at your leisure
Local Trader
Free & easy Parking at rear
Free Measuring* (small fuel surcharge will be incurred on journey's outside a 25 mile radius) Refundable when order is placed.
Free Estimating
Uplift & Dispose of your old flooring available
Move your furniture (large items)
Floor preparation to ensure the perfect finish.
Fitting by experienced Tradesmen
Price match guarantee (any like for like product)
Mobile showroom (select in the comfort of your home)
Personal in-store appointments (subject to availability) book your own viewing with no pressure on any Sunday
Products from major carpet manufacturing companies
Carpet, Vinyl, Sisal, Laminate, Wood, Karndean luxury Designer Flooring.
Selection of Stripes and other contempory Designs
Niche Products.
We can quote in-house or will send you a detailed estimate via e-mail, post or by phone to allow you time to think on the quote given.
We fit all over South West Wales including Carmarthenshire, Pembrokeshire, Ceredigion, Swansea, Neath Port Talbot, Powys, Glamorgan and the Valleys. We have recently been fitting in Crosshands, Ammanford, Llandeilo, Llandovery, Llanelli, Swansea, Carmarthen, St Clears, Narbeth and Whitland, Tenby and Saudersfoot, Newcastle Emlyn and Llandysul, Llanybydder and Lampeter, the Neath Valley, and the Swansea Valley.